The webinar "Decarbonisation opportunities for the maritime industry and ports in Brittany and Scotland" will be held on 22 November. This online event will provide an introduction to the capabilities and opportunities for Brittany and Scotland to work together to decarbonise their maritime industries (including fishing vessels) and port ecosystems.
Accelerating opportunities for collaboration
This event will raise awareness of opportunities in Brittany and Scotland for the decarbonisation of the maritime industry and port ecosystems as well as facilitate initial discussions between our companies to identify opportunities for collaboration. The event will consist of a webinar followed by online business meetings. As a follow up to this event, companies will be able to meet in February 2023 at Hyvolution, the French largest international event dedicated to hydrogen, where Brittany will have a specific stand for maritime decarbonation.
Afternoon programme

Timings:
Webinar programme:
Introduction by BDI and SDI
Presentation of the maritime and port decarbonisation sector in Brittany and Scotland
Speaker for Brittany:
Mr. Maximilien Le Menn, in charge of H2 for the Brittany Region will present the H2 roadmap with a focus on maritime decarbonation.
Mr. Alain Terpant, Director of BDI will present a summary of the study on H2 boats in Brittany and the opportunities for related collaborations.
Speaker for Scotland:
M. Douglas Lang, Chair at Scottish Maritime Cluster. Douglas Lang will present the decarbonisation sector in Scotland and its development perspectives as well as the results of the Clean Maritime Competition and opportunities for collaboration.
Presentation of two flagship projects:
The Hylias project, presented by Olivier Ticos from Alca Torda. The Hylias ship, with electric hydrogen propulsion, will be able to transport passengers in the Gulf of Morbihan in 2024. This project combines the design of the vessel and its refuelling station. On the sea side, two phases of studies have made it possible to model, secure, quantify and bring into conformity the technical and architectural project of the vessel. On the land side, several scenarios were put forward for bunkering the ship alongside the quay in the port of Vannes. Today, the 24-metre vessel, which will be able to accommodate between 150 and 200 people on board, is designed as a first production demonstrator. The project also opens up the opportunity to develop a whole Breton sector of excellence around "zero emission" boat. For the time being, the stakeholders in the project are: the Regional Council of Brittany, Europe Technologies CIAM® , Morbihan Energies, ADEME, La Banque des Territoires and BDI.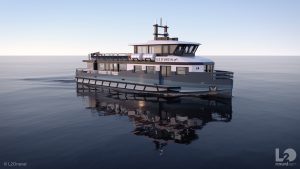 HIMET project : The £2.2 million HIMET (Hydrogen in an Integrated Maritime Energy Transition) project will explore solutions for decarbonising ferries as well as shore-side activities in ports. It is one of 55 projects selected for funding under the Department for Transport's flagship Clean Maritime Demonstration Competition, delivered in partnership with Innovate UK. Led by EMEC Hydrogen in Orkney, HIMET will progress an ambitious programme of activities centred on the decarbonisation of two key local maritime sectors: ferry services and cruise terminal operations.