Entech smart energies, specialising in the production and storage of renewable energies, is putting the finishing touches to its new headquarters, known as the E-Factory, based in Quimper (Finistere). The building is due to be operational in May 2021. Energy storage, electric vehicles, photovoltaics and AI: the E-Factory project aims to demonstrate that an industrial and tertiary activity, beyond consuming as little energy as possible and producing renewable energies, can also provide services to the network and reduce infrastructure and operating costs through conversion and storage technologies and artificial intelligence.
Not just a building, but an entire industrial organisation which is ethical towards the electricity network and beneficial in terms of techniques and cost reduction
Not just a building, but an entire industrial organisation, designed to make the business park in which the company is situated to be ethical towards the electricity network at all times. Entech smart energies is implementing a new concept to demonstrate the technical and economic benefits of the systemic energy transition, together with Breizh Immo and Ademe Bretagne, financing partner of the building.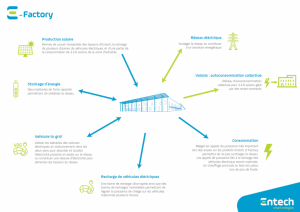 To greatly reduce direct and indirect greenhouse gas emissions, and to reduce its energy dependency, the 4200 m² building, (1200 m² of offices and 3000 m² of production workshops) was designed using specific ecological processes:
Energy efficiency and ecological design: the building is passive for both office and workshop areas, and will be certified "Passivhaus Premium", which is the highest level of ecological certification for a building. Beyond its thermal insulation and weatherproofing, its ecological design was implemented to optimise comfort in hot and cold weather, while maximising the exposure to natural light for each workstation.
Bio-sourced materials: wherever possible natural materials were chosen: the passive building's structure is made of wood, as are many other structural elements, flooring and interior partitions.
Production of renewable energies: A solar powered production plant is being installed on the rooftop, the brise-soleil, the awning and parking canopies. This production will cover all of Entech's power needs, charging for tens of electric vehicles and a portion of the consumption of 3 to 6 neighbouring businesses. Wood powered heating will be available for the coldest days of the year to avoid putting extra pressure on the electricity network, which is often over stressed during cold spells.
Encourage sustainable and electric mobility: the space is organised to encourage employees to cycle to work, charging stations are available so that all employees can get around in electric vehicles. The electricity is free for employees!
Identify and promote flexible consumption: To consume energy when it is most available, automation and user interfaces will enable everyone to make use of flexibility potentials at all times: EV energy consumption, test facilities and thermal management of the building will occur while the electricity production is abundant and less expensive.
Manage and Store energy to support the network: two, high-capacity batteries (designed and produced by Entech) will stabilise the electricity network with advanced features and a quick response time. An energy management solution, based on a logic of self-learning, will enable optimum orchestration of the different elements of the electricity system, providing the electricity network with a maximum of balancing services. It will allow for integration of user behaviour, concerning electric vehicles and processes, understanding of the building's thermal behaviours, as well as local solar energy production characteristics. This intelligence will also maximise the lifespan of components and facilitate anticipation of maintenance operations.
Surplus energy consumed by neighbours: when solar energy is widely available, it will be consumed within the framework of collaborative self-consumption.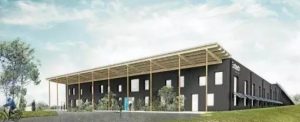 Effective technologies, a global vision of the system for a consistent, ethical and replicable result
Entech's ambition in this project is to test the electricity system of the future. Within the framework of this demonstrator the idea is to calculate a pertinent and replicable energy model: covering 100% of yearly consumption with renewable energies and contributing greatly to support the energy networks. The energy system developed will cover the needs of the building and provide services to the network to massively integrate renewable energies and new uses. The building was designed using local resources to reduce its CO2 consumption to a minimum both during its design and during the building's lifespan.
The technology and innovation building blocks deployed by Entech and their partners in the E-Factory project are as follows:
Passive house building with bio-sourced materials
Photovoltaic solar production plant totalising 400 kWc
Occasional wood powered heating for cold spells
Multi-technology storage system including 2nd life batteries, for a total of 2.5 MWh / 2.5 MW
One ultra-fast charging station (charging 2000 km per hour), 4 bidirectional terminals (Vehicle-to-grid function, to extract power from vehicles in case of a network incident) and 20 adjustable charging points, to regulate the charging power for vehicles parked for several hours
Self-learning smart energy management software with an interactive user interface
Collaborative self-consumption network for 3 to 6 neighbours, managed by smart-contracts
Off-grid functioning: in case of a network outage, and to carry out tests on Entech products, the system can function without being connected to the network and can power the building through the solar plant and energy storage
A hydrogen production system is under review.
Key project figures
The SMILE approved project receives €1 473 675 in funding from the European Regional Development Fund
The overall amount invested in the energy demonstrator is around 3 million euro.
The project building is sponsored by Breizh Immo for the sum of €5.5M
For a global investment of €8.5M
Putting into service is planned for May 2021
About Entech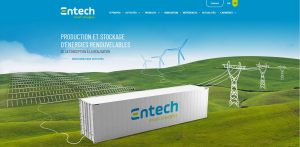 Entech Smart Energies was created in 2016 and currently employs over 55 people, it specialises in the storage and conversion of electric power in France and abroad. Entech smart energies develops, builds and puts into service, installation such as:
On-Grid / Off-Grid Services: systems for the conversion and storage of energy to enable balancing of a network or electrification of isolated zones.
Photovoltaic plants: ground, rooftop, canopies.
Prototyping systems: complex conversion chains on innovative technologies such as tidal turbines, new battery technologies, …